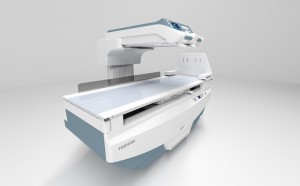 Toshiba America Medical Systems has introduced updates to its T.RAD R&F and Kalare X-ray systems designed to improve workflow and operational efficiency by alleviating the burden associated with repeatedly swapping out X-ray detectors.
"There is nothing more valuable than time, and we are ensuring that our X-ray customers can conduct exams more quickly and accurately," said David Sloop, director of the X-ray vascular business unit for Toshiba. "We are actively listening to our customers and adapting our products to meet their patient and business needs."
Detectors can now be shared among systems to enable more efficient distribution of resources. In addition, the systems can now accommodate up to four wireless flat panel detectors at one time, reducing the need to change detectors after each exam and shortening exam times.
For more information, visit Toshiba America Medical Systems.