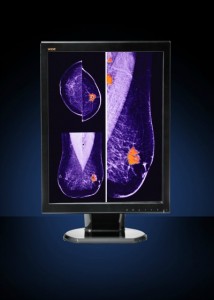 Double Black Imaging has released a new 5MP color LED display designed for multi-modality imaging reads, including mammography. The DBICX50-LED is the latest addition to the company's line of auto-calibrating LED monitors with X-Cal calibration software.
The X-series LED backlit LCD line includes 2MP and 3MP monochrome and high-bright color displays, a 5MP monochrome and color LCD, a 6MP high-bright color display, and a 10MP display for mammography. These LCDs feature higher brightness levels, digital uniformity control, 14-bit processing, a retractable front sensor for true DICOM calibration, a backlight sensor for luminance control, and display port connectivity.
Each LCD also includes a high-speed graphic controller as well as X-Cal calibration software. The X-Cal web calibration suite comes with remote calibration ability via built in front sensors, local and remote comprehensive reporting, email alerts for non-conformance, QA/QC visual patterns, and the ability to remotely manage and launch calibrations, tests, and reports for a network of displays.
For more information, visit Double Black Imaging.