By Karen Appold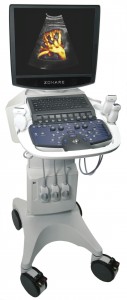 Living up to her commitment to maintain state-of-the-art equipment, when her ultrasound machine was showing signs of age, Burdette Marquis, owner of Vascular Diagnostics, Grand Junction, Colo, set out to buy a new one. While perusing equipment at several vascular conferences, ZONARE Medical Systems' ZS3 ultrasound platform caught her eye.
"After evaluating several other ultrasound machines that included on-site side-by-side demonstrations—the Zonare ZS3 system had superior imaging quality," said Marquis, a registered vascular technologist (RVT) who provides noninvasive vascular testing to the cardiovascular and thoracic surgery clinic at St. Mary's Hospital in Grand Junction. She purchased the system in 2012.
"The other three ultrasound systems I looked at cost considerably more than the Zonare ZS3," Marquis said. "The image quality, ease of use, portability, reasonable price, and 5-year warranty made my decision to purchase the ZS3 a no-brainer." Some comparable systems were twice as expensive.
A Closer Look
The ultrasound's zone sonography technology (ZST) is unique in its image acquisition. "It acquires ultrasound data 10 times faster than conventional ultrasound systems," according to Marquis.
ZST enables continuous transmit focus. Unlike conventional beamformer, line-by-line imaging, ZST uses software-driven, large zone acquisitions, rendering an entirely new and different approach to ultrasound data acquisition and image formation. The result is more imaging detail with consistent, superb resolution and uniform imaging at depth throughout the field of view.
Marquis notes that the Zonare ZS3's smaller size makes it easy to maneuver, and along with rapid boot-up, an optional battery pack and wireless features allow for easy transport. "It is very ergonomic—the keyboard rises and lowers to whatever level you need it and you can turn the large LCD screen in any direction," she said. The knobs are in easily accessible positions. The one-touch easy image optimization and customizable capabilities are part of an intuitive user interface, supporting a seamless workflow.
A Warranty That Can't Be Beat
A huge selling point for Marquis was Zonare's ZS3 5-year state-of-the-art warranty that includes coverage for transducers and software updates. "The other ultrasound machines I looked at only offered a 1-year warranty," she recalls. "The cost to purchase a further warranty was as high as $1,000 per month."
Perhaps Marquis was attracted to the warranty given a previous costly purchase. When a 1-year warranty expired on a piece of ultrasound equipment, she couldn't afford the $1,000 a month extended warranty and went without it. Soon afterwards, the power module broke—costing her $16,000. That opened her eyes to the fact that she needed to have a warranty on any piece of equipment that she purchased.
As a dynamic technology, ZST enables Marquis to receive upgrades to the platform at no additional cost. In fact, she'll receive the newest ZS3 upgrade in early 2015. The upgrade will offer several important updates in image quality, transducers, workflow, and clinical enhancements.
Zonare's warranty gives her absolute peace of mind. She also has the option to extend it after 5 years.
In addition to the ZS3's impressive features, Marquis finds Zonare's customer support system to be unlike that of any other company. "They are in consistent contact with me," she said.
Benefits Abound
From a clinician's standpoint, the ZS3 is capable of imaging the most challenging patients, including obese patients with diffuse atherosclerotic disease. "I have complete diagnostic confidence in a wide array of vascular exams," she said.
In several cases, Marquis identified a critical origin stenosis of the internal carotid artery. "The patients were sent for CT angiography that did not correlate with my ultrasound findings," she recalls. "These patients ultimately had carotid endarterectomies due to ongoing symptoms." The ZS3's ultrasound findings were validated surgically.
From a user's standpoint, Marquis finds the Doppler color sensitivity to be valuable. "The knobs are optimized so you don't have to constantly tweak the system," she said. "I can get through exams quicker and easier."
###