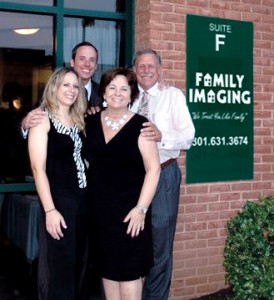 Family Imaging, a full-service imaging center in Frederick, Md, has installed aycan workflow, an integrated imaging and patient management system from aycan and and its partner medQ. The customized system includes aycan's PACS solution and medQ's Q/ris and Reporting Plus+ systems to enable Family Imaging to provide more efficient and cost-effective services, as well as ultrasound imaging, to its community.
"The fully integrated aycan workflow system allows customers to work with just one point of contact for turnkey installation and ongoing support," said Frank Burkhardt, aycan director of North and Latin American operations. "Aycan workflow supports the growing demand for an efficient, integrated workflow while lowering costs."
The aycan PACS solution includes aycan Store, a scalable, DICOM archiving and distribution system, and aycan workstation OsiriX PRO, an FDA- and CE-certified 64-bit workstation for conventional, multi-slice, and other image reading. A custom-designed module also automatically converts reports into DICOM PDFs.
The Reporting Plus+ dictation program also lets Family Imaging radiologists rapidly create, sign, and distribute reports, and the Q/ris Connect interface supports immediate transfer of orders and creation of DICOM modality work list messages to eliminate manual data entry. Bidirectional communications between Family Imaging and their referring physician base also improves data quality and helps ensure patient safety. Following final distribution of the reports via email and fax, all patient data is stored locally at Family Imaging.