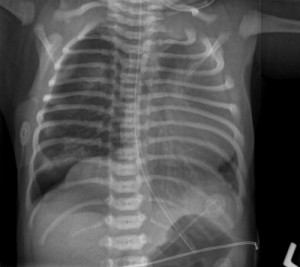 The United States Food and Drug Administration (FDA) has approved the KUB 250, a low-dose digital X-ray system from Kubtec designed for use in the neonatal intensive care unit (NICU). Offering 96 micron resolution, the unit produces high-quality imaging at a controlled dose, reducing the need for repeat exams, which can harm extremely young patients.
"The KUB 250 has been clinically tested to reduce radiation exposure by up to 40% with our advanced high resolution imaging technology," said Chester Lowe, PhD, research and development director at Kubtec. "Detailed image enhancement tools and 750 ms image readout reduce the need to reimage these fragile patients, eliminating further potential radiation exposure."
Typical digital X-ray systems maintain pixel resolution in the 150 to 170 micron range in order to maintain low dosage. However, poor image quality often requires reimaging, negating the benefits of the original resolution. The KUB 250 provides improved resolution to reduce the need for repeat imaging, potentially causing drastic reductions in dose for each acquired image. Coming in at 200 pounds with a 24×24-inch footprint, the unit can also easily fit adjacent to incubators.
"We believe the KUB 250 will have a tremendous impact on the treatment of infants as it will provide the physicians with the advantage of better diagnostic quality images while reducing the radiation dose to the patients," said Vikram Butani, Kubtec's president. "We are proud to extend our expertise and commitment to the most vulnerable patients in the NICU."
For more information, visit Kubtec.