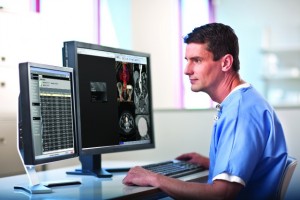 The United States Navy has selected Carestream as the first company to provide its Picture Archiving and Communications System (PACS) for use in Navy medical facilities throughout the world.
The company's Vue PACS passed a rigorous testing process at one of the largest Department of Defense (DoD) hospitals, allowing Carestream to receive an official Authorization to Operate (ATO) through the DoD Information Assurance Certification and Accreditation Process (DIACAP). The DIACAP protocols ensure that information systems are tested and certified for compliance with DoD security requirements and accredited for operation.
Although security testing is typically conducted in laboratory environments, the Vue PACS and its cardiology PACS feature were tested in a DOD hospital that conducts more than 300,000 radiology exams each year. The Navy also reviewed the Vue PACS native reporting feature, which enables voice recognition and remote reading to cut transcription costs and speed workflow.
The Vue PACS consolidates reading of all imaging exams onto a single platform and complies with XDS, HL7, DICOM, and IHE standards. Tools include MPR, MIP, MinIP, volume rendering, tissue definition, vessel tracking, and cardiac analysis. The PACS automatically registers 3D imaging data sets, such as magnetic resonance and computed tomography, to identify subtle anatomical changes and provides bookmarking and tracking features to support oncology follow-up.
For more information, visit Carestream.