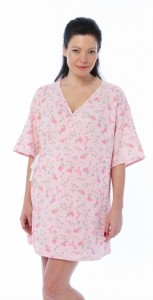 Breast imaging centers are increasingly taking steps to alleviate patient stress and anxiety, put women at ease, and offer advantages that can help them stand out among their competitors.
The latest step in this trend toward increased patient comfort is a mammography top from PatientStyle, San Leandro, Calif, designed to help women feel more feminine and dignified while undergoing a mammogram. The garment features a wrap-around tie design, allowing for easy medical access while providing full coverage. The 60% cotton/40% polyester knit blend offers increased durability and privacy, and has been tested to withstand more than 100 washes in commercial laundry. Customized prints, including feminine floral patterns, are available for individual hospitals.
For more information, visit PatientStyle.