There are several good reasons why sonography is becoming a critical part of the practice of emergency medicine.
By Jenny Lower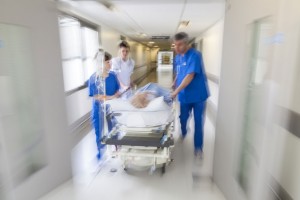 Not long ago, ultrasound remained a relative rarity in the emergency department (ED) setting. But around the late 1990s, a shift began that carried through the next decade and a half, transforming the standard of care in the process. In 2003, the number of post-residency emergency medicine (EM) ultrasound fellowships available nationwide ranked in the teens, while they now total over 90. In 2007, the Model of Clinical Practice of Emergency Medicine determined ultrasound to be a competency integral to the practice of emergency medicine. So what is responsible for this gradual but monumental sea change?
Robert Tillotson, MD, is the medical director of the emergency department at St. Michael's Hospital in Stevens Point, Wis. When he finished his residency in 1990, ED ultrasound was virtually nonexistent. He began learning about the modality in 2001 as it was becoming more prominent, one of many physicians who rode the wave of adoption in the early 2000s.
"It became obvious to me very quickly that it provided me with rapid information that I never had before. I could do a tremendously better job impacting patients' lives," Tillotson said. He was so struck by ultrasound's potential that he not only pursued the training necessary to become credentialed, but even sat for the Registered Diagnostic Medical Sonographer exam. He now serves as his facility's emergency ultrasound director and has created a talk called "Coming Out of the Darkness," which contrasts his practice before and after adopting ultrasound.
"When you practice emergency medicine and you don't do ultrasound, you're dependent on everyone else for answers," Tillotson said. "Now, within minutes and sometimes even seconds of seeing the patient, I can answer vital questions that I never could answer before."
Gaining Popularity
According to the Society of Diagnostic Medical Sonography, ultrasound was first used for medical purposes in the late 1940s and gained traction in the 1950s and '60s, when it grew in popularity for cardiac, obstetrics, gynecology, and abdominal applications.
Today, that modest number of core applications has widened considerably to include everything from abdominal aortic aneurysm, biliary, cardiac, deep vein thrombosis, intrauterine pregnancy, musculoskeletal, and ocular to soft tissue, thoracic, trauma, urinary tract, and procedural guidance applications. Several more potential uses are on the horizon, with emerging applications such as advanced bowel, advanced cardiac, and testicular becoming increasingly common. Researchers are also exploring transesophageal echocardiogram, transcranial Doppler, the use of contrast agents, and applying ultrasound to assist with fluid responsiveness and resuscitation.
This growth is partly due to better technology: prior to the 1990s, ultrasound machines were larger, less portable, and more costly than the systems of today. Machines were less reliable, and training programs less available, meaning that few ED physicians were trained in the first place on how to use the modality.
"As image quality in the more portable machines has improved, so has the diagnostic accuracy of nontraditional sonographers at the bedside," said Gerardo Chiricolo, MD, director of the emergency ultrasound fellowship program at New York Methodist Hospital and past chair of the American College of Emergency Physicians (ACEP) ultrasound section. "The better the machines become, the more confidence sonographers can have at the bedside in their interpretation of those images."
ACEP introduced its first comprehensive ED ultrasound guidelines in 2001 and further solidified them in 2008. During that period, the Model of Clinical Practice followed suit by making competency in bedside ultrasound a requirement for graduates of its EM residency training programs. The current EM Milestone project, a joint initiative of the Accreditation Council for Graduate Medical Education (ACGME) and the American Board of Emergency Medicine, outlines five levels of ultrasound competency for graduating ED residents, including the ability to perform an extended focused assessment with sonography for trauma (EFAST) exam and experience conducting a minimum of 150 exams.
As those graduates refine their skills and enter the work force, they are importing that expertise and helping to drive ultrasound's adoption as a first-line modality.
Saving Minutes, and Lives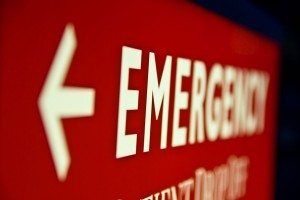 Physicians point to key diagnostic advantages of emergency ultrasound. The systems' small footprint and portability mean that exams can be performed at the bedside, without the inconvenience, danger, and delay associated with transporting critically ill patients to another suite for a computed tomography (CT) or magnetic resonance imaging (MRI) scan. Use of ultrasound has been tied to shorter stays in the ED, greater accuracy in placing central venous lines, and reduced procedural complications.
The lack of ionizing radiation also makes it safer for patients than CT or x-ray, and it offers doctors the freedom to perform repeat exams as needed—regardless of whether they also require an alternative exam as follow-up later. Nervous patients can get answers more quickly, increasing their peace of mind and satisfaction. There is also a financial component at play: ultrasound is significantly less expensive than CT exams.
Research supports those claims. A study published in the September 18, 2014 issue of The New England Journal of Medicine compared use of ultrasonography and CT in patients with suspected nephrolithiasis, or kidney stones. Researchers found that using ED ultrasound as a primary screening tool was associated with lower cumulative radiation exposure and did not significantly increase complications, serious adverse events, pain scores, return emergency department visits, or hospitalizations, which can lead to higher costs for healthcare facilities.
Most importantly, doctors say, when they perform the ultrasound exams themselves, results are immediate. They don't have to wait for a sonographer to perform the exam or a radiologist to read it. That rapid turnaround can eliminate delays of minutes or even hours, and save lives in the process.
"We're able to do the exam at the bedside, and do it while we're actually treating and resuscitating the patient. In the critically ill cases where we're not able to move the patient, we're able to get very, very valuable information," said Christopher Raio, MD, vice chair of emergency medicine and chief of the emergency ultrasound division at North Shore University Hospital in Manhasset, NY. He also served as recent past chair of ACEP's ultrasound section.
Raio points to one case at his facility involving an otherwise healthy adult male in his 20s. The man had been stabbed in the chest twice, and after a CT scan of his chest, abdomen, and pelvis showed normal results, he was sent to North Shore, an American College of Surgeons Level I trauma center, for further evaluation.
While in the ED, the patient's systolic blood pressure dropped into the 90s. A 30-second ultrasound exam revealed life-threatening pericardial effusion with early signs of tamponade, a fluid buildup around his heart that was compressing the left ventricle. Within 5 minutes, the patient was rushed to the operating room, where the fluid was drained and the patient was stabilized—what Raio calls "a major save."
A Future of Uniformity
But despite the many advantages of ultrasound as a first-line modality, the path toward widespread adoption isn't necessarily clear-cut. There may be political issues at play. The radiology department may not be supportive of what they see as encroachment on their turf.
Chiricolo says that at his facility, the head of radiology supports practice of emergency ultrasound, but he knows facilities where that's not the case. He sees emergency ultrasound as complementing traditional sonography. "I think there's a role for everybody. There are a lot of scenarios where a patient benefits from a radiology department comprehensive ultrasound. Other patients just need a point-of-care clinical ultrasound that answers a question so that you can care for the patient in that moment. They can very clearly live harmoniously," he said.
More importantly, many older doctors finished their emergency medicine residencies before ultrasound became a requirement. Those seeking to become credentialed are required to attend a 16-hour training course and complete 150 practice exams, a process that generally takes about a year. Most physicians are willing to attend the training, Tillotson says, but they can flounder at the experiential stage if no ultrasound specialist is available at their facility to offer guidance. Hospital administrators are often unwilling to pay for formal administrative support, such as an ultrasound director.
Emergency ultrasound fellowships aren't quite as advanced as residencies in terms of standardization. Raio estimates the programs are still 2 to 3 years away from applying for formal ACGME accreditation. That accreditation should help improve uniformity in training programs across the country.
Tillotson believes emergency medicine is at a turning point for the implementation of emergency ultrasound into clinical practice. "There's a vast spectrum now. We're right in this transition period where everybody coming out of residency programs over the next 10 years is going to be trained in ultrasound and they're going to be using it routinely in their practice. It's a win for the patients."
###
Jenny Lower is associate editor for AXIS.
Get AXIS e-newsletters free. Subscribe here.