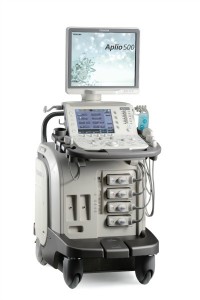 Toshiba America Medical Systems recently released the Aplio 300 and Aplio 500 Platinum series of ultrasound systems, designed to help clinicians meet the goals of the Centers for Medicare & Medicaid Services' Triple Aim initiative. The enhanced systems expand on the offerings of Toshiba's existing Aplio 300 and 500 systems.
"We understand our customers' business and enhanced our premium radiology systems with new technologies and improved existing ones like Smart Fusion and Fly Thru," said Tomohiro Hasegawa, director of the ultrasound business unit at Toshiba. "The Aplio Platinum series offers our customers a patient-centric system that expands the clinical utility of ultrasound and provides a safer, less invasive, and more cost-effective solution."
The systems have been upgraded to provide improved tools for visualization, quantification, and intervention. New features include BEAM, a technique that enhances needle visualization during ultrasound-guided procedures. The Aplio 500 Platinum offers Shear Wave elastography, a tool to noninvasively measure liver tissue stiffness and reduce the need for biopsies, as well as Superb Micro-Vascular Imaging (SMI), which captures low-velocity blood flow without the need for contrast agents or more invasive modalities.
For more information, visit Toshiba America Medical Systems.