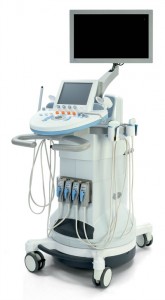 SuperSonic Imagine, a medical ultrasound developer based in Aix-en-Provence, France, has signed an exclusive agreement with Konica Minolta to distribute SuperSonic's Aixplorer ultrasound system in Japan. The country represents the third largest ultrasound market in the world and will significantly expand the company's global reach.
"SuperSonic Imagine is very proud to be working with Konica Minolta, a prestigious company and ideal partner for expanding the use of our ultrasound technology in Japan," said Jacques Souquet, founder and CEO of SuperSonic Imagine. "Our technology provides detailed, real-time information important to the Japanese general imaging marketplace and can be used in a broad range of applications such as breast, thyroid, liver, and musculoskeletal exams."
The Aixplorer incorporates an UltraFast software platform which, according to SuperSonic Imagine, acquires images up to 200 times faster than conventional ultrasound systems. The system's ShearWave Elastography technology also assesses and quantifies tissue stiffness in real time to help identify disease.
"We are very pleased to include SuperSonic Imagine's Aixplorer ultrasound system in our portfolio of medical imaging solutions. The Aixplorer surpasses the limits of traditional ultrasound," said Keijiro Asayama, general manager of the Ultrasound Business Unit at Konica Minolta. "Its pioneering technology is in alignment with our own company mission to provide innovative, high-quality products to our customers."
For more information, visit SuperSonic Imagine.
Get AXIS e-newsletters free. Subscribe here.